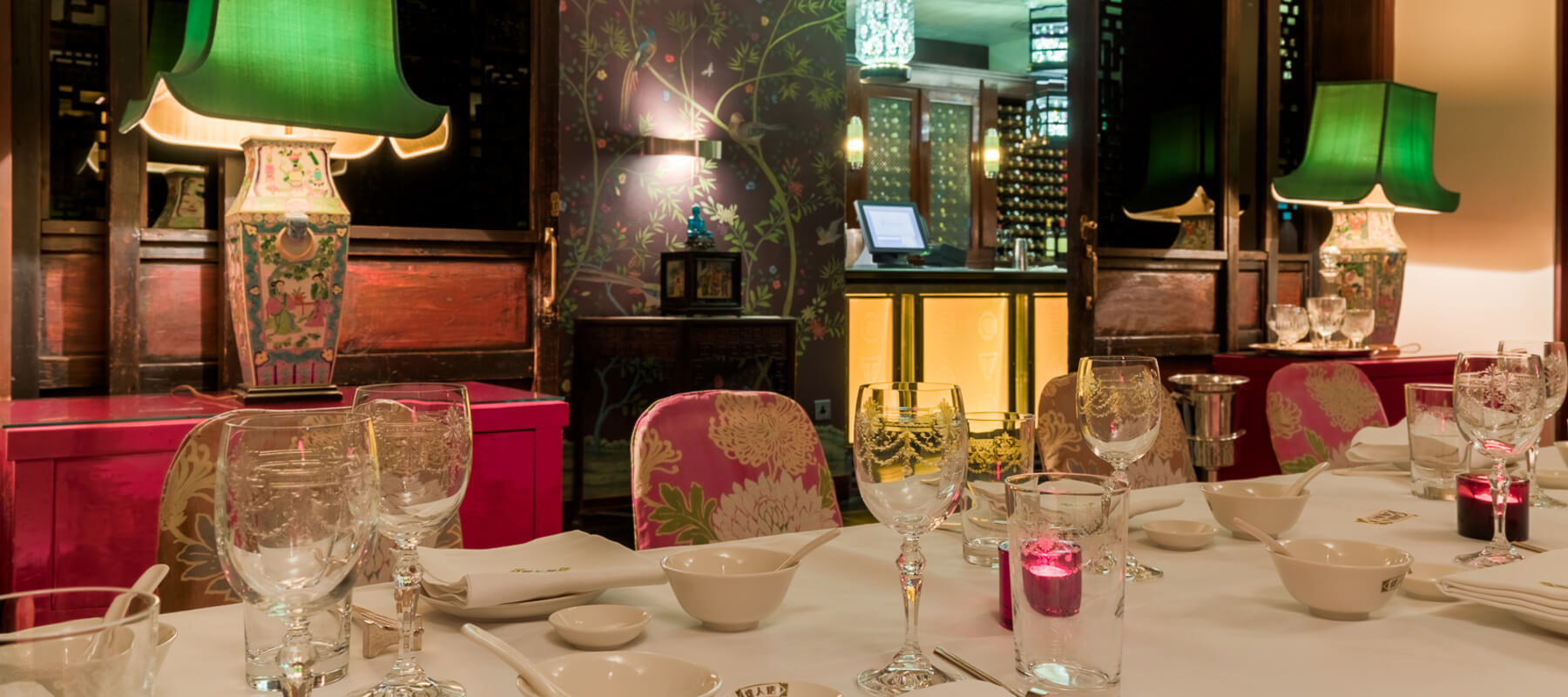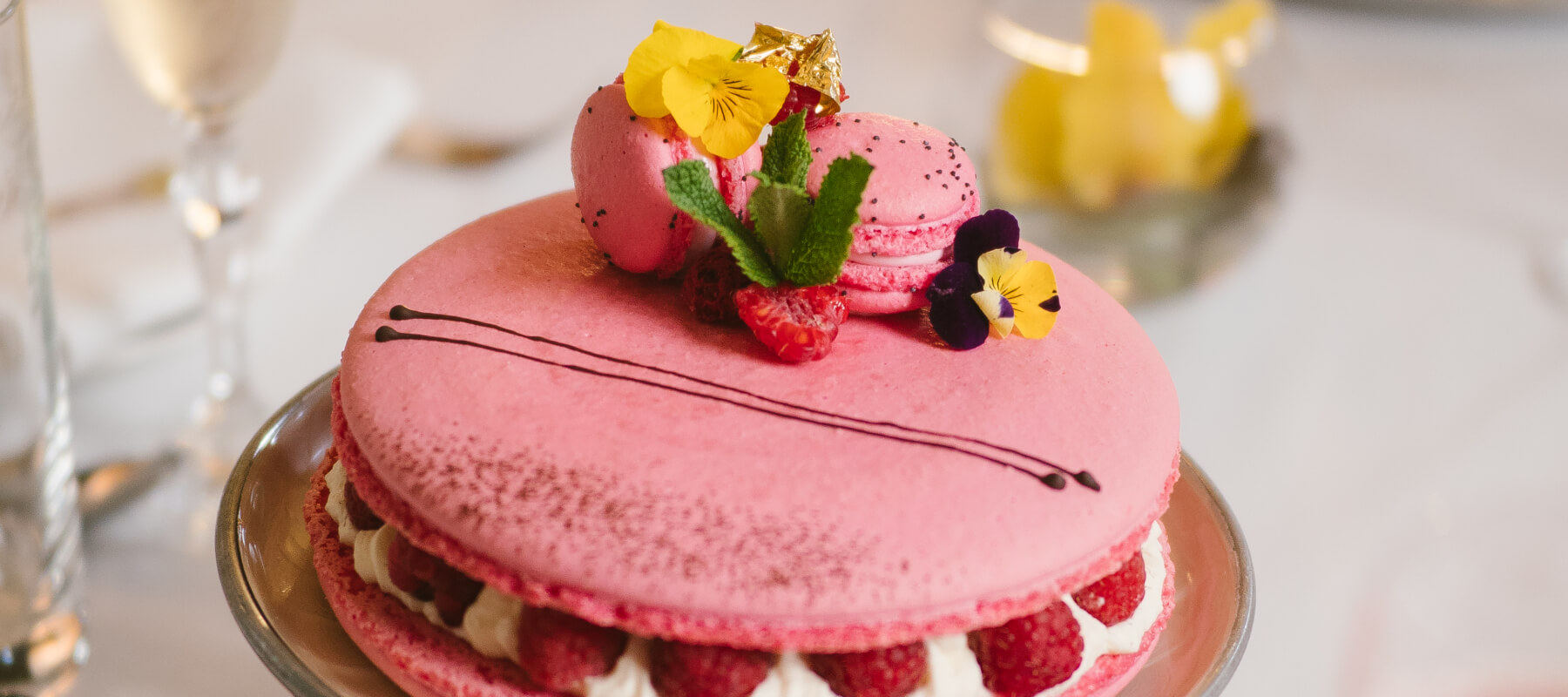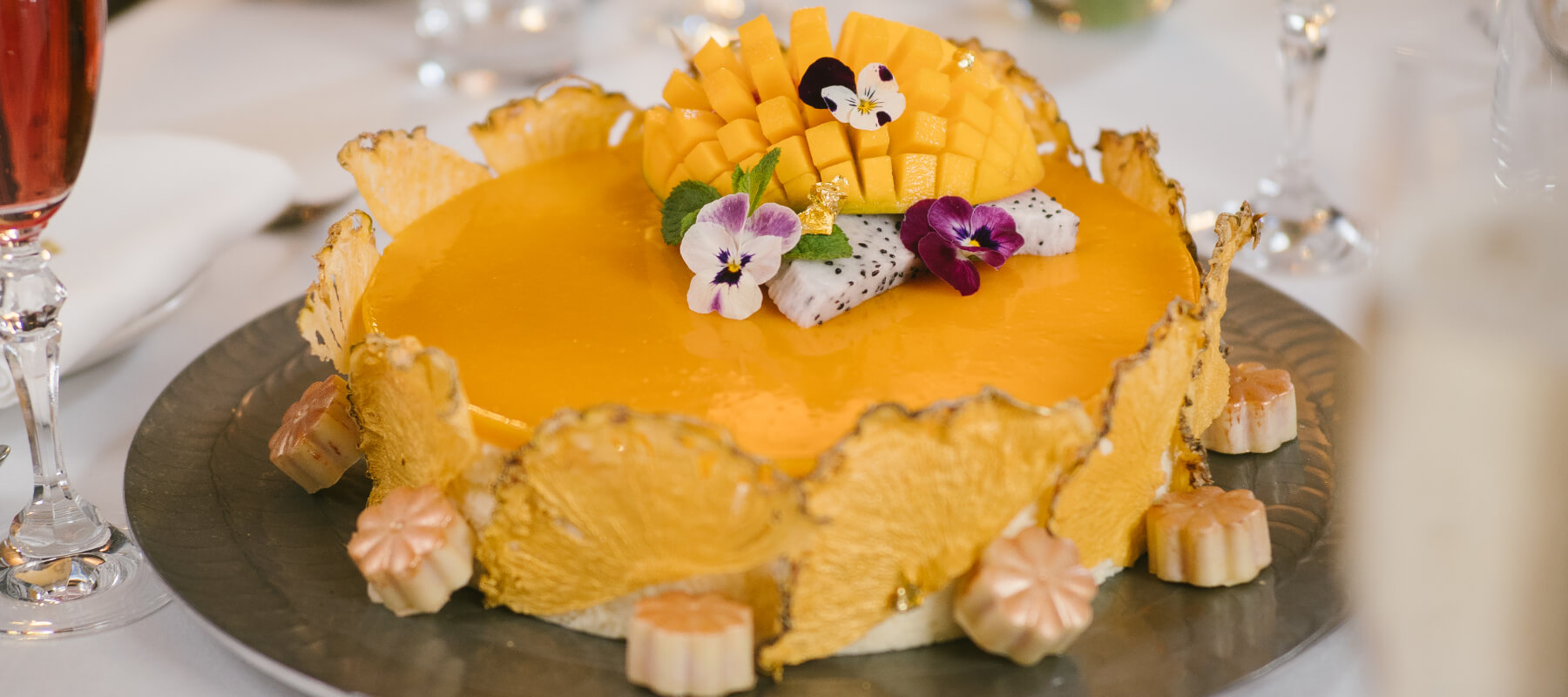 Private Dining Rooms
China Tang is uniquely equipped as an event space and party venue, with three private dining rooms available for hire; Ping, Pang and Pong. Concealed behind sliding lattice doors, these rooms are as versatile as they are glamorous. In line with current government guidelines, large groups may be accommodated in our private dining rooms in a series of tables with up to 6 guests per table. And of course, with the China Tang Bar on hand, you've got the perfect start to any event.
For those special occasions, these elegant rooms serve to transport your party to a time of rich 1930's splendour, a most fitting backdrop for an evening of unrivalled opulence and decadent dining.
You can find an example of our Private Dining Room menus below.
Menus
Set Lunch Menu A - £50 per person
Dim Sum Selection
Har Kau
Scallop Dumpling
Iberico Pork Siu Long Bao
Spring Roll (V)
*****
Classic Steamed Prawns with Garlic
Stir-Fried Beef in Black Pepper
Sweet and Sour Pork
Steamed Rice
Four Seasons Green Beans
*****
With traditional soup course - £68 per person
Set Lunch Menu B - £68 per person
Classic Peking Duck
*****
Classic Steamed Prawns with Garlic
Stir-Fried Beef in Black Pepper
Sweet and Sour Pork
Steamed Rice
Four Seasons Green Beans
*****
With traditional soup course - £80 per person
Set Lunch Menu C - £125 per person
Stuffed Crab Shell
*****
Classic Peking Duck
*****
Salt and Pepper Prawns
Braised Beef in Oyster Sauce
Stir-Fried Chicken with Spices
Egg Fried Rice
Four Seasons Green Beans
*****
Dessert Selection
Set Vegetarian Lunch Menu - £48 per person
Dim Sum Selection
Mushroom Dumpling with Truffle
Spring Roll (V)
Spring Onion Cake
Taro Puff (V)
*****
Sweet and Sour Tofu with Crispy You Tiao
Four Seasons Green Beans
Yu Xiang Aubergine Hotpot
Seasonal Greens
Vegetarian Fried Rice
*****
With traditional soup course - £63 per person
Set Menu A - £95 per person
Dim Sum Selection
Har Kau
Scallop Dumpling
Iberico Pork Siu Long Bao
Spring Onion Cake
Spring Roll (v)
*****
Roast Belly Pork, Roast Chicken and Roast Duck Mixed Platter
*****
Sir David's Hot and Sour Soup
*****
Classic Steamed Prawns with Garlic
Stir-Fried Beef in Black Pepper
Sweet and Sour Pork
Four Seasons Green Beans
Steamed Rice
*****
Dessert Selection
Set Menu B - £108 per person
Dim Sum Selection
Har Kau
Scallop Dumpling
Iberico Pork Siu Long Bao
Spring Onion Cake
Spring Roll (v)
*****
Classic Peking Duck
*****
Sir David's Hot and Sour Soup
*****
Classic Steamed Prawns with Garlic
Stir-Fried Beef in Black Pepper
Sweet and Sour Pork
Four Seasons Green Beans
Steamed Rice
*****
Dessert Selection
Set Menu C - £115 per person
Dim Sum Selection
Cha Siu Bao
Har Kau
Siu Mai
Iberico Pork Siu Long Bao
Spring Roll (v)
*****
Classic Steamed Diver Scallop on Half Shell with Black Bean
*****
Roast Belly Pork, Roast Chicken and Roast Duck Mixed Platter
*****
Stir-Fried Grouper Fillets with Asparagus
Szechuan Prawns
Stir-Fried Beef in Black Pepper
Egg Fried Rice
Assorted Three Mushrooms with Seasonal Greens
*****
Dessert Selection
Set Menu D - £170 per person
Classic Steamed Diver Scallop on Half Shell with Black Bean
*****
Classic Peking Duck
*****
Won Ton Soup
*****
Classic Steamed Wild Sea Bass with Ginger and Spring Onion
Salt and Pepper Prawns
Sauteed Chicken with Cashew Nuts
Stir-Fried Beef in Black Pepper
Four Seasons Green Beans
Steamed Rice
*****
Dessert Selection
Set Menu E - £148 per person
Stuffed Crab Shell
*****
Classic Peking Duck
*****
Won Ton Soup
*****
Golden Prawns with Salted Egg Yolk
Stir-Fried Beef in Black Pepper
Stir-Fried Chicken with Spices
Asparagus
Egg Fried Rice
*****
Dessert Selection
Set Menu F - £120 per person
Salt and Pepper Squid
*****
Ying Yang Duck and Chicken Salad
*****
Sweet Corn Soup with Crab
*****
Classic Peking Duck
*****
Golden Prawns with Salted Egg Yolk
Sweet and Sour Pork
Szechuan Chilli Lamb Cutlets
Abalone Chicken Fried Rice
Four Seasons Green Beans
*****
Dessert Selection
Set Menu Vegetarian - £80 per person
Dim Sum Selection
Vegetarian Dumpling
Spring Onion Cake
Taro Puff (V)
Spring Roll (V)
*****
Golden Crispy Tofu
*****
Won Ton Soup (v)
*****
Sweet & Sour Tofu with Crispy You Tiao
Yu Xiang Aubergine Hotpot (v)
Four Seasons Green Beans
Seasonal Greens
Vegetarian Fried Rice
*****
Dessert Selection
RESTAURANT RESERVATIONS UP TO 6 GUESTS
LARGE GROUP AND PRIVATE DINING ENQUIRY